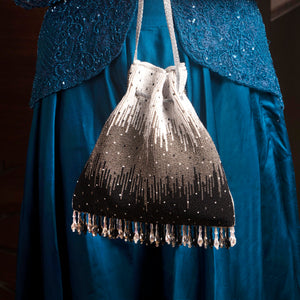 Hand embroidery: Bead work in shades of white, grey and black in an ombre effect. This bag comes with a beautiful hand stitched tassel.
Embellishments: Matching silver chain and handmade tassel latkans
Fabric: Blended silk base and lining.
Size: ~ 9 x 9 inches with 7 x 9 inch capacity.
Care: Store in a muslin cloth.