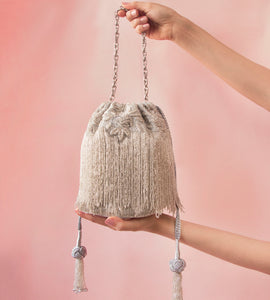 Epitome of Luxe - The 'Reina' bucket bag is fully hand embroidered with intricate zardozi flowers going into long flowy tassels that give just the right amount of swish.
Embellished with matching hand made tassel latkans, Reina comes with a detachable silver short chain.
Fabric: Tissue base & blended silk lining.
Size: ~ 8.5 x 8.5 inches with 5 inch round base.
Care: Store in the cover provided.